IoT von Ende zu Ende
Wir sind grandcentrix, Ihr Partner für die gesamte Welt des Internet of Things und smarter Technologie.
Die Zukunft ist digital
Die digitale Transformation ist unaufhaltsam. Sie hat nicht erst begonnen, wir stecken mittendrin. Internet of Things, Industry 4.0, Smart Home, Smart Products und Smart Energy sind längst Megatrends. In diesem Orbit übernehmen wir bei grandcentrix Speerspitzenverantwortung. Als Entwickler, technischer Partner und betreuender Dienstleister setzen wir dabei kontinuierlich neue Standards für cloud-basierte Ende-zu-Ende-Lösungen.
IoT aus einer Hand
Wir realisieren digitale Strukturen und vernetzte Produkte für das Internet of Things – ganzheitlich, prozessübergreifend und interdisziplinär. Unsere industriellen Auftraggeber unterstützen wir sowohl bei der Transformation existierender Produkte und Geschäftsmodelle als auch bei der grundlegenden Entwicklung von Innovationen.
Als echtes Alleinstellungsmerkmal vereinen wir bei grandcentrix Elektronik- und Embedded-Entwicklung, Wired und Wireless Connectivity, IoT- und Cloud-Plattformen, Security, Predictive Analytics und Visualisierung sowie Frontends und User Experience Design unter einem Dach.
Wir gestalten zukunftsfähige Systemlösungen für die digitalen Geschäftsmodelle unserer Kunden.
Insights
via Twitter
28. September 2018
The grandcentrix team is already training for the company cup regatta! ⛵☀️ Good luck to the team! 🍀 https://t.co/S6BLTMuIgC
via Twitter
via Twitter
26. September 2018
The Leica FOTOS app launch event was a blast. It's always amazing to see how many different skills it takes to craft a truly amazing digital product. Kudos to the Leica + grandcentrix team! https://t.co/Mn4nOkWSG4
via Twitter
25. September 2018
Congratulations to @leica_camera for launching Leica FOTOS, finally putting the gallery in your pocket! It has been an honor for us to be trusted with the hard- and software integration and the complete development of the Android and iOS experiences. https://t.co/nonKVHWvr0
via Twitter
19. September 2018
We would like to thank all visitors, speakers and our crew for another great evening at our house! See you next year for another Sketch & Design Meetup! 🎉💎 https://t.co/Dh8G98TbN0
via Twitter
19. September 2018
Today we are hosting the second Sketch & Design Cologne meetup and for all of you who cannot attend we are going to offer a livestream via YouTube! 😊 please feel free to join here: https://t.co/h3hAHB2iMK see you at 7:15 pm 👋🏼
via Twitter
via Twitter
4. September 2018
In unserer heutigen Podcast Folge sprechen Luise (7 Jahre) und Charlotte (11 Jahre) mit Dr. Norbert Braun darüber, was Roboter sind, wie man sie baut, wozu man sie benutzt und welches der größte Roboter der Welt ist. ☺️ Abchecken und reinhören! https://t.co/zlFzxJPVZa https://t.co/gKm3m4Bb6A
via Twitter
via Twitter
via Twitter
30. August 2018
Unser Security Consultant Alexander Klute wird am 22. November ein Webinar geben, das sich der Sicherheit von IoT Systemen, insbesondere den kompletten Lebenszyklen von IoT Devices widmet. Zur Anmeldung gehts hier: https://t.co/zwC9OQRlXU
via Twitter
via Twitter
via Twitter
25. Juli 2018
In unserer heutigen Podcast Folge berichtet Tobias von seinem früheren Leben als Entwickler einer Smart-TV App. Abchecken und reinhören! ☺️ https://t.co/PjRWuIn5WG
via Twitter
via Youtube
23. Mai 2018
Sketch & Design Cologne #01 @ grandcentrix
via Youtube
5. März 2018
Cross-platform code sharing with C++ and Djinni [mobile.cologne @ grandcentrix]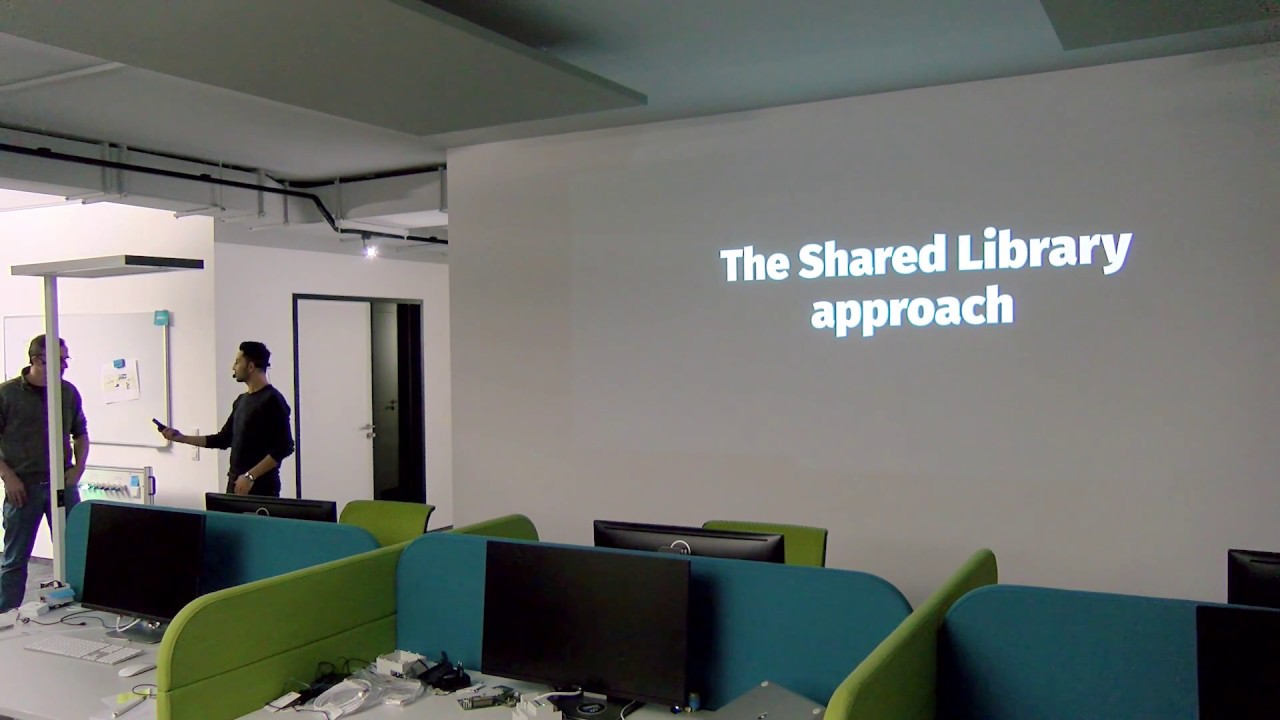 via Youtube
5. März 2018
10 years Android – what's next? Fuchsia and Flutter [mobile.cologne @ grandcentrix]
via Youtube
27. Februar 2018
IOTΛ Deep Dive w/ Dominik Schiener @ grandcentrix
via Youtube
17. November 2017
HomeKit on Apple TV "shipping" after just 8 hours hacking at grandcentrix
via Youtube
23. Juni 2017
grandcentrix Holzmarkt 1 Köln Walkthrough
via Youtube
21. Juni 2017
Reifenhäuser Group - Imagevideo 2016
via Youtube
29. Mai 2017
Erster offizieller Tag am Holzmarkt
via Youtube
28. Mai 2017
Neues grandcentrix Headquarter: Noch 24 Stunden
via Youtube
11. Mai 2017
Microsoft Cognitive Services: Workplace Safety Demo | Build 2017
via Youtube
11. Mai 2017
Microsoft IIoT Dashboard | Build 2017
via Youtube
17. Februar 2017
Built On Thread | Thread Group | grandcentrix GmbH
via Youtube
23. Dezember 2016
grandcentrix Headquarter (Holzmarkt 1 · Cologne)
via Youtube
14. Dezember 2016
ThirtyInch - Introduction to the MVP library on Android by Pascal Welsch